3D Render Service Architectural Rendering UK
Scan Technical Drawing Render 3D, Pictures Of 3D Buildings, 3D Scale Drawing
The UK 3D Render Service provided by 3D Imaging a UK based Architectural Rendering company includes the capability to scan a technical drawing then render 3D pictures of 3D buildings and produce a 3D Scale Drawing. We can offer a 3d architecture render service that gives you the power to be flexible
in your design choices. The pictures of a restaurant interior converted from a Wesleyan chapel allowed the owners to make major decisions about the interior décor without making expensive mistakes. It could be said these services that feed you images and 3D walkthrough animations (showing how your property will look) can in effect act like online virtual building sites. We can even rapidly deliver walkthroughs and drawings cities 3D. 3D visualization is a very useful tool that creates from 2D plans a 3d projection
that gives you strong imaging information about your future property.
>> Main 3D Animated_Architectural_Illustration_page UK
>> See the interior of a heritage building visualized in 3D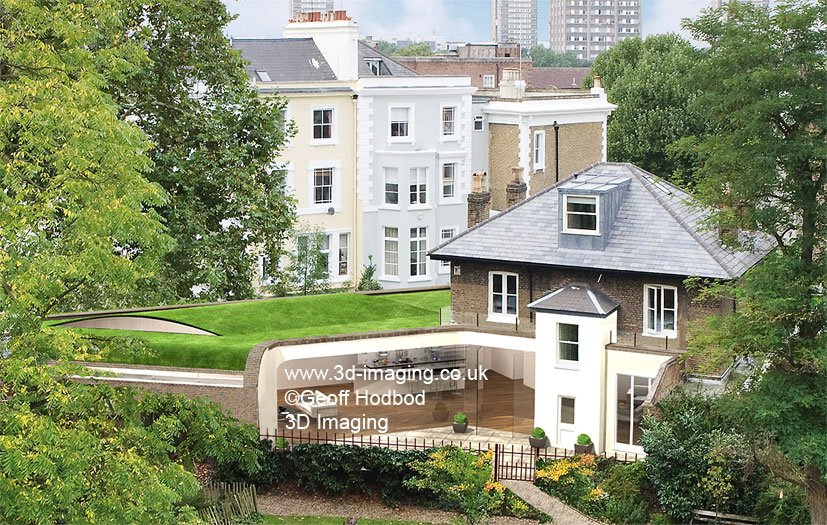 Full virtual room makeovers are possible too. It is possible to see with which range of furniture fixtures and fittings will look best in your envisioned interior environment. Virtual room designing is also a super way of deciding the way you want to apportion the available space. Should a wall be removed to go for a more open plan space or will it work better to have more small divided up rooms?
We can deal with a wide variety of computer file formats, so can
produce:
Microstation 3D Architectural Renderings
AutoCAD 3D Architectural Renderings
Autodesk VIZ Architectural Renderings
Autodesk 3ds max Architectural Renderings
We can handle a Wide Variety of Architectural Subjects e.g. 3D
Grid Modelling of a Bridge. Consult us if you have an unusual brief,
problem or set of circumstances.
UK Architectural Hand Rendering by Freehand Sketching and Painting
As an alternative to photorealistic computer graphic renderings we have graphic artists who can produce an attractive architectural hand rendering of your structure by freehand sketching and painting in watercolour and gouache.
There are major benefits of having a 3D modern artist make your future building into computer-based 3D colour models. 3D graphics images allow you to do some virtual room painting by choosing a range of colour options and seeing with which scheme the interior of your property will look its best. Having "3D Imaging" your virtual room decorator apply virtual room paint is very cost effective. To apply one paint colour then strip it off before applying another colour can be rapidly achieved.
Whatever your future property visualization needs are we can provide you with a quick, reasonably priced service covering the entire spectrum of possible requirements from stair building illustrations to a virtual room creator service.
We can provide you with 3D Animated Walkthroughs or Flythroughs, around your building- representing any route around your Architectural Rendering Site Plan, and pausing (or slowing) at selected viewpoints or features. We can zoom in or out as needed, and introduce Moving 3D Character Figures, individually or in groups.
Our services can make Architecture Design 3D Interactive. Your clients can be shown a range of options within a 3D Rendered environment, allowing amendments to be suggested to designs. Impressive Architectural Graphics Visualizations can make all the difference, in sell ing the idea of your Project to a Client.
3D Models Interior Architectural Design – UK Made
3D Interior Visualisation is a speciality. We can provide beautifully crafted Architectural building renderings to aid the marketing of interior space.
Movie Output can be as CD-ROM Files in Standard Format, for direct use or for downloading over the Web. Or with further editing, compositing or other post-processing (services that we can offer ourselves) we can integrate these files into Blue-ray or DVD too.

Realistic renderings can match material textures or surroundings, and you have the scope to show alternative cladding or surface finish options.